Today's Cartoon Country is about the Teen Force.
-Ah, no. That's the Aqua Teen Hunger Force. Not surprised about the confusion, though; every time I've searched for this topic on the interwebz, these guys have come up.
No, the subject of today's Cartoon Country are in fact the Teen Force, one of the regular segments from Hanna-Barbera's Space Stars (1981-1982), one of the many, many attempts by the Alphabet Networks (ABC, CBS and NBC) to bring Star Wars to Saturday morning in the late 70's through early 80's.
You might have encountered these shorts on Boomerang, or rather you could if they were still showing old HB toons from the Turner/Time-Warner vault and not just spamming us with episodes of Teen Titans GO! and The Amazing World of Gumball, neither of which belong there and are already airing first-run on Cartoon Network.
Teen Force focused on three superhuman young teenagers who hail from an unknown alternate universe which is located beyond the confines of the mysterious Black Hole X, which serves as a gateway into the universe in which the other main characters from Space Stars exist. Each episode would typically begin and end with our titular teen team jetting in and out of Black Hole X on their souped up space scooters.
One thing I never got: how the heck were they able to go in and out of a black hole as if it were just a screen door?
The Teen Force consists of:
Kid Comet, who possesses tremendous levels of superhuman speed, enabling him move at speeds exceeding the speed of light, and can even move quickly enough to travel through time. Zoom-zoom. Also, he occasionally dated Space Ghost's sidekick and twin sister of Jace, Jan.
Moleculad, who can control his molecular structure for various effects. I'd like to take this opportunity to apologize to this guy. When I was a kid, I thought Moleculad was lame because I originally though all he could do was transform into a mass of random molecules, Big Whoop, but after re-watching some of these shorts, I realized he could do other things, like in one instance he rearranged his molecules to morph himself into a lookalike of Elektra and in the episode we'll be discussing here, he rearranges the molecules of a common rock to resemble a precious stone. So sorry for calling you wack earlier, guy.
And Elektra, who possesses the psionic disciplines of telepathy, telekenesis, and teleportation.
Accompanying them are a pair of diminutive blue-skinned aliens named Plutem and Glax, also known as the Astromites. TRIVIA TIME: Glax and Plutem's bleep-bloop-blip dialogue was provided by Police Academy's Michael Winslow.
Their principal enemy in the series is Uglor, a mutant native and tyrannical ruler of the planet Uris (whose inhabitants are a race of evolved simians) in Galaxy Q-2. Uglor's mutancy granted him bird-like wings and the ability to generate destructive energy blasts from his bionic eyes, which allowed him to see through Space Ghost's Inviso Power and Elektra's telepathic illusions.
The episode of Teen Force we'll be examining today is the short "Word Star". (No, that's not something from The Electric Company.) I'd like to show you the short itself, but unfortunately it's not currently available for viewing. It was on YouTube for a time, but during the time I was researching for this article, it got taken down from there.
"Word Star" followed a fairly typical formula: Uglor discovers the existence of the Word Star, an all-powerful McGuffin which enables anyone who possesses it basically do anything, and naturally he wants to get his grimy monkey paws on it. The Teen Force naturally intervene to stop that from happening. After some back-and-forth (including Moleculad slipping Uggs a fake by shifting the molecules of an ordinary rock–that nifty trick I listed above), the Teens succeed in snagging the Word Star away from Ol' Ugly. Then they do the same thing that so many heroes have done in so many other shows: when faced with the prospect of ridding the universe of Uglor once and for all, say by blasting him to his component atoms or shrinking him down to the size of a bug and going clog-dancing or sucking him into an empty beer can and sealing it shut, they opt not to do it, on the grounds that, say it with me now: "If we did that, we'd be no better than him."
Yeah, yeah, I know heroes have to walk a fine line, that they have to set a good example for the kiddos at home and all that good stuff, but I get so tired of that cliche. Maybe it's me, but I would've rather seen it end this way: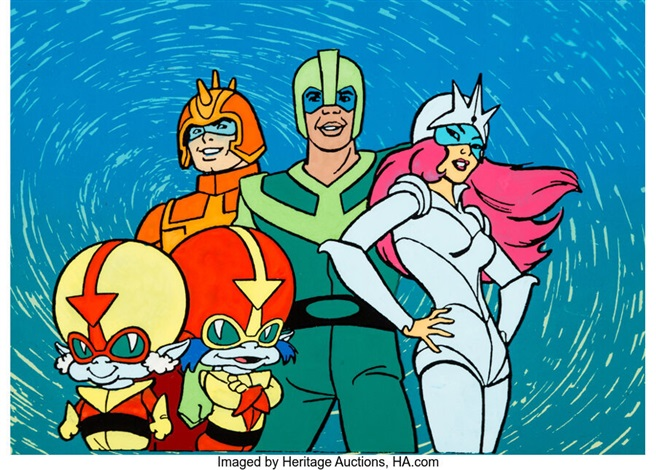 "Works for us!"
-END OF EPISODE-
-Hey, a fella can dream, can't he?